LLEIDA COMPUTER MAINTENANCE
We are experts and we have many years of experience in Lleida computer maintenance, computer services,
and face-to-face, remote, and monitoring technical support.
The key to our Lleida computer maintenance service is the experience and professionalism of our technical team and our expert management system
From Gestinet, a leading company in Lleida computer maintenance, support and IT services with a long experience in this sector, we have a large and professional technical team in constant training, recycling knowledge, which provides our clients with the best advice and experience in order to advise and recommend, in each moment and situation, the best and most efficient solution.
Our Lleida computer maintenance and computer support services correspond to thr constant, preventive, and resolute services in the customer's facilities, with the aim of preventing accidents and encouraging corrective actions. From Gestinet, we also carry out the monitoring of the servers and users of each client in order to offer more and better control, giving a faster and more effective response in each action and situation.
It's important to note, especially in the outsourcing sector of Lleida computer maintenance, that all Gestinet computer technicians are experienced professionals located in the province of Lleida, so we do not use the subcontracting and/or freelance profiles, since these modalities are decreasing the quality of the service and customer satisfaction. So, Gestinet Lleida only uses its own qualified professional template.
Gestinet Lleida has one of the fastest response times in the sector regarding computer incidents and computer breakdowns that the client may suffer. Initially, by means of a remote response in order to be as efficient as possible, fast and effective, and the next step is the face-to-face response from our technicians to the client's location, offering in Lleida one of the fastest responses in the market.
It should be mentioned that in Gestinet Lleida, we are experts in the Lleida web positioning, especially in Lleida Google positioning, essential and indispensable services to capture potential customers who are looking for just what the company/client offers. Obviously, we must first design and plan a tailor-made SEO strategy for each client, maximizing the objectives amd methodology and focusing especially on the conversion, return, and profitability of the investment.
In every Lleida computer maintenance modality which we offer Gestinet, one of the most important and sensitive aspects that our service manages and ensures is the correct execution of data and system backup of each client, offering various services as a complement and/or improvement of this system of security which is so fundamental and vital for any company nowadays. Comprehensive review of local backups, external backups or removable devices (LOPD), etc.
Our Lleida computer maintenance offers a maximum response time for incidents from 3 to 4 hours. We currently give immediate response.
All of our Lleida computer maintenance technicians have at least a High Computer Science Degree in Computer Systems.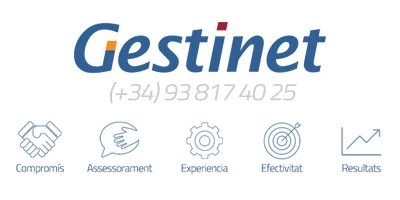 We give for each Lleida computer maintenance client a minimum of 2 direct technicians in order to be as resolute and accurate as possible.
We give the mobile numbers of the linked technicians so that the client can directly contact them and be more resolute and effective in Lleida computer maintenance.
We have fixed and stable technicians to provide a stable and fast computer maintenance Lleida service without any surprises or delays.
Our computer maintenance Lleida customers have a powerful Extranet for the complete management of their service.
Our company has a professional computer technology team with a lot of experience and specialized in the management of networks and high-level computer equipment on any platform, such as Windows, Mac, Linux... We have important and recognized clients, carrying out the comprehensive management of its IT facilities continuously. We have different computer maintenance in Lleida modalities, depending on the needs and objectives of each client.
All our Lleida computer maintenance customers have a powerful Extranet in the cloud so they can perform real-time management on this service, such as monitoring of computer incidents, Lleida computer maintenance service consumption consultation, consultation of digital work bills by computer technicians, remote access, permits... An unique management platform in our sector and developed by our Dept. of programming
As we offer a periodic, preventive, expert, and demanding Lleida computer maintenance service, we also have other vital services for any company nowadays, such as the Lleida web design service, always using the web design techniques and methodology more innovative and efficient.
We are distributors and official and certified Partners of the best brands, solutions, and manufacturers of software and hardware at all levels, such as Microsoft, Mac, Ubuntu, Google, Dell, HP, Cisco, etc...
Lleida computer maintenance, face-to-face, remote and monitored
Our IT technicians perform the Lleida computer maintenance service on networks, devices, and computer components in person in the customer offices, along with the monitoring of systems and remote response included.
At Gestinet Lleida, we know and are aware of the importance of a good Lleida computer maintenance and a proactive and responsible action in this sense, thus avoiding both security issues and obstacles in one efficient management of all the resources of the network, servers and users of each client.
We are the IT branch of our clients
At Gestinet we are a very important and vital part of each client and this makes us more demanding, proactive, and non-conformist. We carry out contracts for Lleida computer maintenance prevention, repair, and constant monitoring of the computer systems of each client.
We have many years of experience and we have achieved an important customer portfolio with the rigor and professionalism of the entire human team of Gestinet, which places us as a leading and leading company in our sector.
Gestinet, your 360º partner with the best professional solutions
Do you need Computer Maintenance? Contact us!